PENNSYLVANIA AUCTIONEER JOHN HUMS!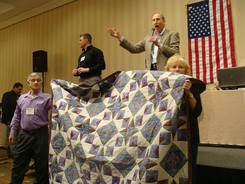 We take in consignments of a wide variety of items, some of the categories include but not limited to: antiques, collectibles, vintage sports memorabilia, ephemera, vintage coins & currency, precious metals & jewelry, vintage military memorabilia, vintage toys, quality tools & equipment, racing equipment, cars & trucks, farm equipment, recreational vehicles & trailers, business liquidations, real estate & personal property.



There are many reasons how John Hums Auctions can get you the best money possible for all your valuables. We use the most professional & effective methods possible to market and advertise your items to the auction world. From cutting edge technology, to classic tried and true methods, we explore every possible angle to bring the most attention and exposure to our auctions and your items. We have an unlimited pool of loyal costumers and buyers that are passionate about buying and collecting the things they love, and of course we keep them up to date on all the fantastic merchandise that will be featured in up-coming auctions. We set up and display your items with professional strategy for maximum exposure and the best appearance possible. Our team of experienced & professional runners on auction day will handle your items appropriately along with giving a detailed description to ensure maximum exposure to the bidding audience. The amazing possibilities are endless when consigning with John Hums Auctions, we have a countless number of satisfied clients that can attest to it and continue to do business with us year after year, because they know John Hums Auctions is the best place to consign hands down. So whether you are selling Aunt Susie's Estate, Uncle Bill's Coin Collection or your own Sports Memorabilia, you will hit a home run by giving us a call today!


---
HOW WE CAN PICK-UP YOUR ITEMS FOR YOU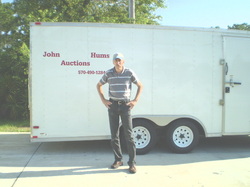 If you rather have us pick-up your items for you, then our team of experienced and professional packers & movers will do a top notch job. You can arrange a pick-up by calling us at 570-490-1284 from there we can then set up a date and time that works for your schedule to come and get your items. Depending on how big your pick-up is it may require additional help, but for most jobs we use a truck & enclosed trailer and a team of two professional movers. We use the best methods when packing and loading your merchandise, we take extra precaution with every item to make sure it is loaded as safe and secure as possible. All your items will be safely delivered to and unloaded at our warehouse , where they will be arranged and stored in our warehouse until they are ready to be put out in an up-coming auction. We can schedule a pick-up date faster and more efficiently then any other auction company, so you can liquidate your items.
So give us a call :) 570-490-1284

---
DROP OFF CONSIGNMENTS AT OUR CHESTER COUNTY OFFICE

If packing and moving your items is your thing, then you can load them up and bring them to us at our Chester County office. We will help you unload your merchandise and then our experienced staff will expertly store and arrange it in our safe and secure auction warehouse until it is ready to be sold in an upcoming auction. To schedule a drop off give us a call today at 570-490-1284.